I spent all of last week in Miami Beach at the MOGO media InDesign and Vector conference. It was great, or course, and it marked my first trip ever to Florida. Really. Had I not been such a mellon head on the flight down, I would have snagged some more pictures. You would be amazed at how well the iPhone camera does at 38,000 feet.
I talked about the whole on-the-way-to-Miami experience on my Jeff talks@TMO blog over at The Mac Observer, so I won't go all re-run mode here. OK, maybe just a little.
One of the things that I absolutely love about flying is seeing places that I may very well have been and experienced, but from in the air instead of on the ground. The from-above perspective helps me stitch together in my head where things are in relation to each other in a better way than most maps because the view out of a plane window is always accurate, but maps are error prone. It's also great for helping me work on my world domination strategy.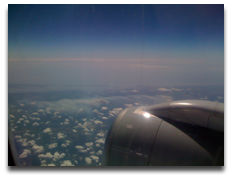 On this flight I saw several fires along what I'm sure was the Alabama and Florida coast lines. Most people on the plane never noticed them. Thanks to my trusty iPhone, however, I snapped a couple of shots.
If you didn't catch where the fires are in this picture, try the one with the nice red circle.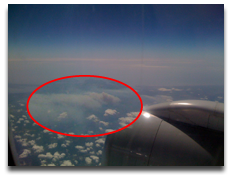 First, I'm really happy with how well my iPhone picture through the crappy American Airline plane windows turned out. Second, I'm totally surprised that multiple fires big enough to be seen easily at 38,000 feet weren't on the news.
I suppose I should have a point… OK, here's one: Look out airplane windows. You never know what might be on fire down below you.
And another point: Keep your iPhone handy so you don't forget to take pictures of the Mississippi river as you fly over it. Yeah, I know. Live and learn.